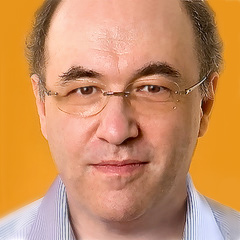 Computation and the Future of the Human Condition

How far can technology ultimately go, and how will it redefine the human condition? This talk will be about bringing some surprising foundational discoveries about the basic science of the computational universe to bear on such questions. Along the way, I'll discuss the limits of science, medicine and technology, the nature of free will, the concept of meaning, the search for extraterrestrial intelligence, the notion of progress, and the future of human purpose---as well as a host of more immediate and concrete issue.
Stephen Wolfram is the founder and CEO of Wolfram Research, the creator of Mathematica and Wolfram|Alpha, and the author of A New Kind of Science. Born in London in 1959, he was educated at Eton and Oxford, and received his PhD in theoretical physics from Caltech in 1979. As an academic, he made various contributions to particle physics, cosmology and computer science, and played a founding role in the development of complexity theory. He launched Wolfram Research in 1986, released Mathematica 1.0 in 1988, A New Kind of Science in 2002 and Wolfram|Alpha in 2009. He was awarded a MacArthur Fellowship in 1981, and has received numerous awards for science, technology and business in the years since.